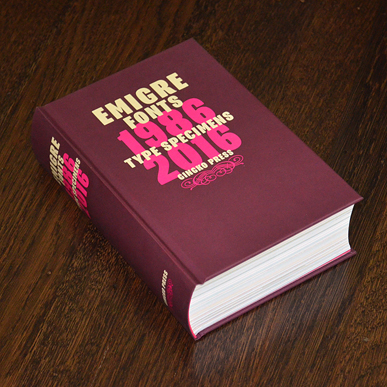 Emigre Fonts: Type Specimens 1986-2016
Published by Gingko Press
Hot off the press, Emigre's latest book is a 752-page compilation celebrating the art of the type specimen. The book features reprints of Emigre's most remarkable specimen designs covering a period of 30 years. Besides displaying the virtues of the fonts and revealing the processes used to design them, these specimens go beyond their primary function as sales tools and can be enjoyed as much for the typefaces as for their esoteric content. If your collection of Emigre's popular type specimens is incomplete, or if you've missed out on these entirely, here's your opportunity to catch up.
You can read a review of the book at AIGA's Eye on Design.
Available in cool bookstores everywhere. Or you can order copies directly from Gingko Press or Emigre.