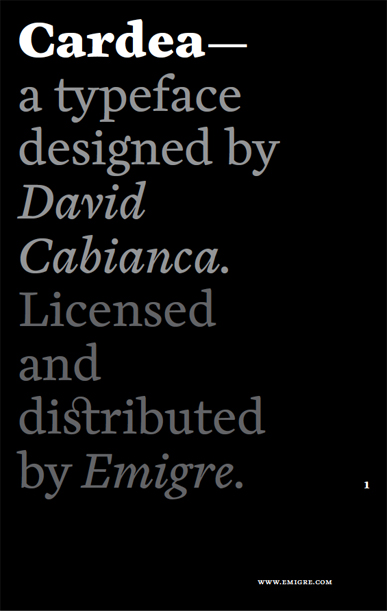 Free Cardea PDF Catalog Now Available!
The Cardea family of typefaces is given its first serious test drive in this 32-page type specimen catalog designed by Emigre's art director Rudy VanderLans.
Cardea is the outcome of David Cabianca's 2003–04 MA Typeface Design experience at the University of Reading. Cardea was designed to function as a text face. It is characterized by high contrast, subtle curves and crisp edges to create a typeface that is not shy to sparkle on the page while appeasing the reader with remarkable readability. It features three weights, each with accompanying italics, small caps, and a large variety of ligatures and numerals, making it an excellent typeface for setting lengthy texts in books, journals and annual reports.
You can download a FREE copy of the Cardea catalog here.