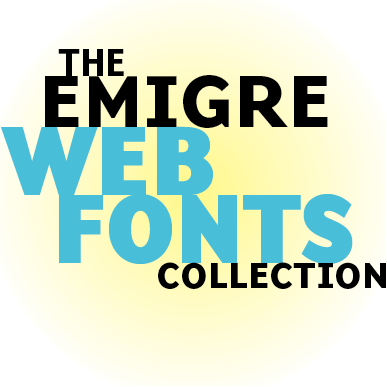 Emigre Web Fonts
The Emigre Font Library is now available in Web Font format for use in web sites.
Emigre Web Fonts are provided in both WOFF and EOT formats for use with the CSS @font-face rule. The combination of WOFF and EOT formats allows the Web Fonts to function on most currently used browser types.
Emigre Web Fonts are licensed for self hosting, with a choice of a 5 year renewable term, or a one time perpetual term option, giving you full control over server performance, and eliminating monthly or annual subscription fees.
We have optimized our web fonts hinting for screen display. However, as the technology remains in flux, the variables of the different platforms, screens, rasterizers, browser defaults, and user preference settings, sometimes generate inconsistencies beyond our control.
Look for the Emigre Type Director's Picks for Web Fonts that perform best across all browsers and sizes. Below are sample Mac screen renderings from 19 of the 189 current Type Director's Picks.