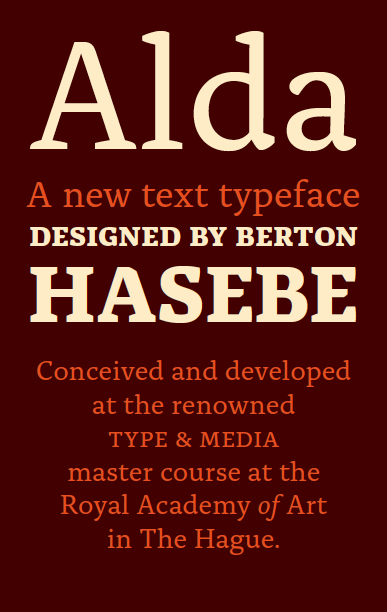 Introducing Alda by Berton Hasebe
Conceived and developed at the renowned Type and Media master course at the Royal Academy of Art (KABK) in The Hague, Alda wears its local heritage on its sleeve. It hints at a range of Dutch types, from Jan van Krimpen's Lutetia to Underware's Dolly, yet it differentiates itself as a unique type family bearing distinctive and easily recognizable features.
Alda distinguishes itself most visibly by infusing its three weights with characteristics that are seemingly incongruous. Featuring a bold weight that is robust and angular, and a light weight that is delicate with swooping, fluid lines, Alda's three weights merge details derived from both broad nib and pointed pen writing styles. Hasebe blends these two structurally divergent techniques into a remarkably beautiful synthesis.
Alda has already impressed the type cognoscente, as it was awarded the 2008 judges pick from the Type Directors Club in New York, and it was selected by the Tokyo Type Directors Club to be included in its annual publication.
A short interview with Hasebe about his experiences at Type and Media is posted in our essays and interviews section.