Busy Types
It's been a hectic first quarter at the Emigre Type Studio, with upgrades to some of our classics, and a number of new typeface releases being finalized. Here's a quick update on what we've been working on.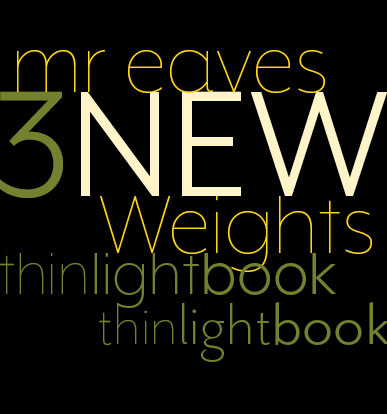 Mr Eaves
Zuzana Licko has just finished work on expanding the Mr Eaves family with three new weights of Thin, Light, and Book for both the Sans and XL Sans, with italics, small caps and alternates. These additions will expand the Mr Eaves family to over 78 styles. The fonts are available for purchase now.

 


 
Exocet
We have added a Medium weight to Jonathan Barnbrook's Exocet font family. An OpenType version of the font is now also available with alternate characters provided for the K, O, and T.


Since its original release in 1991, Exocet has been surprisingly successful and enduring. It has been used on a wide variety of products, from Goth album covers, to the top-selling computer games "Diablo" and "Quake", as well as the more genteel Tazo tea packaging. Its combination of modern and antiquated forms have ensured its longevity in the world of commercial design.

 


 
Coming Soon!
We're super excited about Alda, a new text typeface designed by Berton Hasebe, which is now in the kerning stages. Alda was designed by Hasebe while studying at the renowned Type and Media program at the Royal Academy of Art in The Hague, Holland (KABK). Alda has already impressed the type cognoscente, as it was awarded the 2008 judges pick from the Type Directors Club in New York. You can see Alda in its preliminary stage on Hasebe's website. Release date is set for Summer 2011.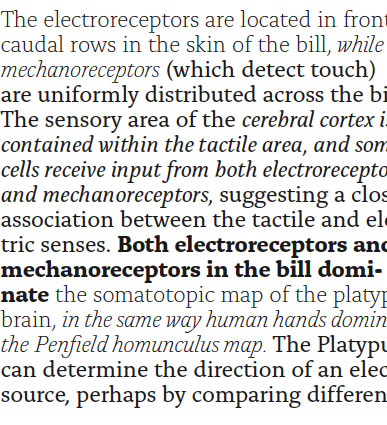 Miscellany
If you haven't yet, be sure to put yourself on our mailing list to receive free copies of future type specimens. And don't forget about our ongoing "Free Gift" offer for all type orders of $150 and over.


Emigre Newsletter
You can add yourself to the Emigre Newsletter emailing list. We use the Emigre Newsletter to help keep you informed of new products, services, and special limited offers.