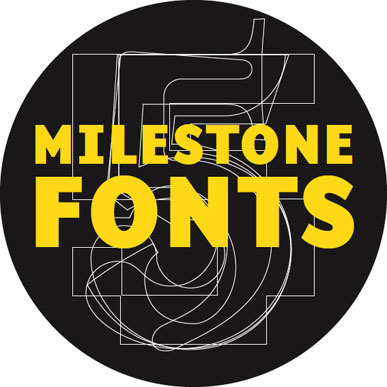 Five Milestone Font Families
In early January 2011, The Museum of Modern Art in New York made curatorial history when it acquired 23 digital typefaces for their Design and Architecture Collection. Besides such classics as Erik Spiekermann's FF Meta and Matthew Carter's Verdana, the acquisition also included five font families from the Emigre Type Library: Keedy Sans by Mr. Keedy; Mason Serif by Jonathan Barnbrook; Template Gothic by Barry Deck; Oakland by Zuzana Licko; and Dead History by P. Scott Makela.
These milestone fonts are synonymous with the early days of the digital era. In their designs they exhibit the experimental exuberance and technical challenges and opportunities brought to type design as a result of the introduction of the Macintosh computer. No type collection is complete without them.
To celebrate this momentous occasion, Emigre also produced Departures, (see below) a 144-page pocket book based on the concept behind the accompanying MoMA exhibit Standard Deviations: Types and Families in Contemporary Design, which will run from March 2nd, 2011 through January 30, 2012.
For a limited time you can purchase a basic license for the Five Milestone Font Families in OpenType format for only $164 and receive a free copy of the pocket book. (This is less than half the regular price!) This specially priced offer expires January 30, 2012 and may not be combined with any other offer or upgrade.