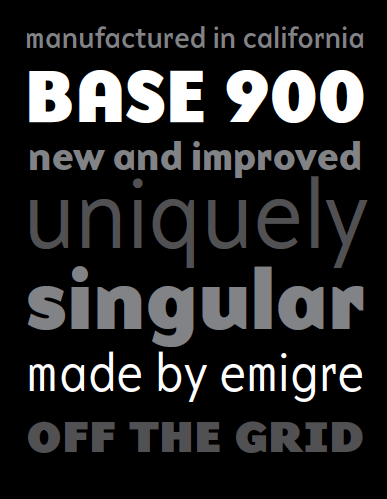 Introducing Base 900 Sans by Zuzana Licko
The Base 900 family is a high fidelity adaptation of the Base 9 design, a comprehensive family of screen fonts with companion printer fonts designed in 1994. Base 900 seeks to simultaneously resolve compromises inherent in the design of its predecessor, while holding true to its nine pixel bitmap lineage. The resulting Base 900 fonts still convey a modular, geometric style, reminiscent of the early computer technology era, but with an updated, more refined look made possible by a high resolution grid.
One of the challenges when drawing Base 900 was finding the right balance between normalizing the design of the original Base 9 while maintaining its unique character. The redesign still had to look like Base. Improvements were made to glyph outlines, spacing, and kerning, and three extra weights were added. But close attention was paid not to situate Base 900 in the overcrowded stylistic neighborhood of too many sans serif fonts that aspire to look "neutral." Subverting legibility in favor of a more unique visual quality would make some type purists cringe. But others, who feel that type should impart more than just legibility, will enjoy the undeniable singularity of Base 900.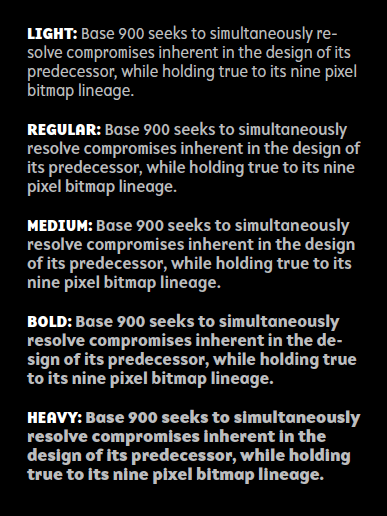 View and order the Base 900 family.