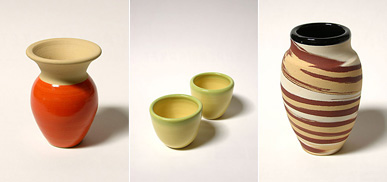 Ceramic vases
A brand new offering of handmade ceramics by Zuzana Licko is now available. These one-of-a-kind vases, sake cups and bowls feature an assortment of colorful glazes applied to various shades of stoneware. Heights range from 2.5 to 11 inches.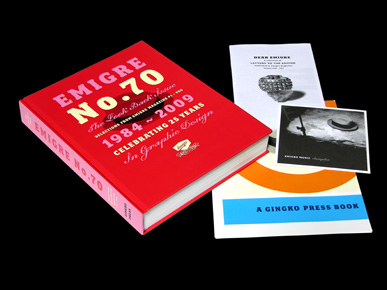 Emigre No. 70: The Look Back Issue
Selections from Emigre magazine #1 - #69
This 512-page book, designed and edited by Emigre co-founder and designer Rudy VanderLans, is a selection of reprints that traces Emigre's development from its early bitmap design days in the mid 1980s through to the experimental layouts that defined the so-called "Legibility Wars" of the late 1990s, to the critical design writing of the early 2000s. Featuring interviews with, among others, The Designers Republic, Allen Hori, Rick Valicenti, Vaughan Oliver, Mr. Keedy, Ed Fella, and essays by Lorraine Wild, Anne Burdick, Zuzana Licko, Kenneth FitzGerald, Andrew Blauvelt, Kalle Lasn, Rick Poynor and many more.
Order the Emigre book now, and receive a FREE set of the Puzzler Wrapping Papers (shown below) to turn this purchase into the perfect holiday gift for your designer friend. (Offer expires Dec 18, 2009.)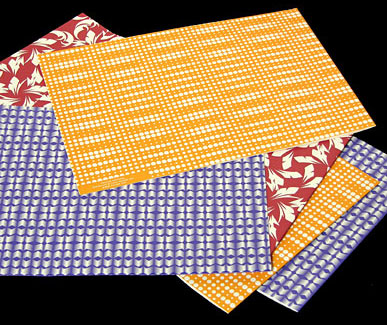 Emigre at Gallery 16
The design work of Emigre will be on display at San Francisco's Gallery 16 from December 18, 2009 through January 30, 2010.
The exhibit, which coincides with the recent publication of Emigre No.70: The Look Back Issue, features a selection of work spanning the entire Emigre enterprise, including a collection of press sheets of Emigre magazine covers, promotional posters for Emigre Music and Emigre Fonts, as well as books, prints, photographs, and much more. A series of six specially designed large-sized digital prints to celebrate Emigre's longstanding relationship with Gallery 16 will also be on view.
Emigre No.70: The Look Back Issue will be on sale and the authors will be available to sign copies during the opening reception.
December 18, 2009 - January 30, 2010
Gallery 16, 501 3rd Street, San Francisco, California.
Opening reception and book signing December 18th, 6-9 pm.


Holiday delivery
Emigre's standard shipping is UPS ground. For delivery by December 23rd, place your express order by December 18th. Holiday delivery is guaranteed only for express orders within the U.S.





Emigre Newsletter
You can add yourself to the Emigre Newsletter emailing list. We use the Emigre Newsletter to help keep you informed of new products, services, and special limited offers.