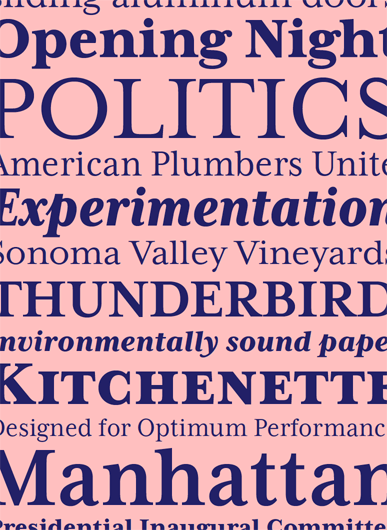 Mrs Eaves XL
This latest release from Zuzana Licko expands the popular Mrs Eaves family with the "XL" series, a space economic variant in 3 weights of regular and narrow with accompanying italics and small caps.
Read about the development of the Mrs Eaves XL fonts here:
Mrs Eaves XL Design Information
View and order all Mrs Eaves XL fonts here:
http://www.emigre.com/MrsEavesXL
Available in Macintosh, Windows or OpenType formats.
The Mrs Eaves XL OpenType fonts include the following features:
Small Caps, All Small Caps, Alternates, Proportional Old Style Numbers, Proportional Lining Numbers, Tabular Old Style Numbers, Tabular Lining Numbers, Superior Numbers and Scientific Inferior Numbers, Numerator and Denominator and Arbitrary Fractions.