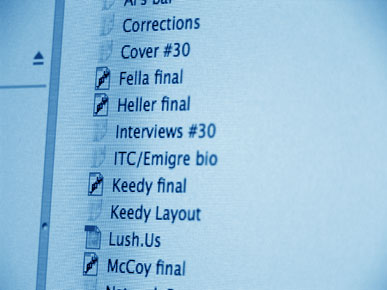 Reading Emigre Online.
In recent months we have been posting select essays and interviews from past issues of Emigre magazine on our website. As Emigre back issues sell out we plan to continue posting their content and making it publicly available.
We have just posted the main content of Emigre #30 ("Fallout"). This milestone issue from 1994 was a response to the (in)famous "Ugly" essay written by Steven Heller for Eye magazine. For those of you who missed the typographic debates of the 90s, or for those nostalgic for those turbulent times in design, these interviews are not to be missed as they define a historical moment in graphic design.
Conducted by Michael Dooley, Emigre #30 included interviews with Steven Heller, Mr. Keedy, Edward Fella and Cranbrook student David Shields, one of the designers of Output, the linchpin publication that inspired Heller to write the "Ugly" essay.
Also newly posted is an in depth interview with British design critic Rick Poynor conducted by Mr. Keedy in 1995 for Emigre #33.