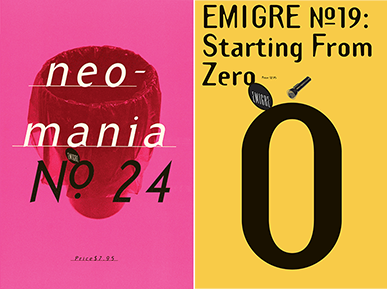 Emigre in the UK 06.19.2017

Two current exhibits in the UK feature work by Emigre.

The University of Reading is staging the exhibit Emigre magazine: design, discourse and authorship. The exhibition, which will run from June 12 to July 14, has been co-curated by Francisca Monteiro and Rick Poynor.

The show is divided into sections that reflect and examine the range of Emigre's activities – Rudy VanderLans as editor; The Emigre type foundry led by Zuzana Licko; VanderLans as graphic author; the Emigre Music record label; Emigre as a space for collaborative authorship for designers and writers; Emigre considered in context. A related essay by Rick Poynor on the influence of Emigre on graphic design was published in Creative Review.

Also in the UK, a number of Emigre magazine issues are included in the wonderful exhibition California: Designing Freedom at the Design Museum in London which runs from May 24 to October 17.

The exhibit explores how the ideals of the 1960s counterculture morphed into the tech culture of Silicon Valley, and how "Designed in California" became a global phenomenon.

Read about California designers Zuzana Licko, April Greiman, and Susan Kare and their influence on a generation of graphics in a review of the show at FastCompany.