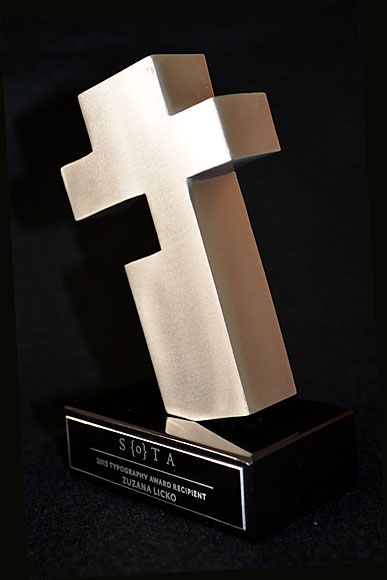 Zuzana Licko Wins SOTA Award! 08.29.2013

The Society of Typographic Aficionados (SOTA) announced that type designer Zuzana Licko has been honored with the 2013 SOTA Typography Award. The presentation took place on Saturday, August 24, 2013, at the Hilton Hotel in Portland, as part of TypeCon 2013.

The SOTA Typography Award is presented each year to an outstanding member of the type community. Past recipients include Hermann Zapf (2003), Ed Benguiat (2004), Matthew Carter (2005), Adrian Frutiger (2006), David Berlow (2007), Gerrit Noordzij (2008), Gerard Unger (2009), Doyald Young (2010), Erik Spiekermann (2011), and Mike Parker(2012).