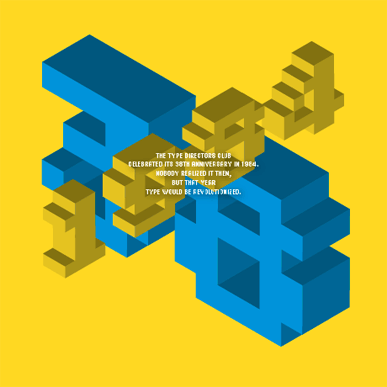 Celebrate 65 09.06.2012

To celebrate its sixty-fifth anniversary and its sponsorship of typographic excellence, the Type Directors Club has published Celebrate 65, a portfolio of inspirational work by prominent type designers, graphic designers, letterers, calligraphers, and artists. The sixty-five contributors were invited to submit a design for one number between one and sixty-five.

The featured designers come from more than twenty-five countries and include such celebrated names as Marian Bantjes, Neville Brody, Sonya Dyakova, Louise Fili, Ruben Fontana, Milton Glaser, Henrik Kubel, Niklaus Troxler, Underware, Sharon Werner, and Bai Zhiqei.

Emigre was honored to collaborate on this project and was assigned to design a page using the number 38. While looking for a design angle, it suddenly occurred to us that the TDC was founded in 1946 and that they celebrated their 38th anniversary in 1984. What a coincidence! Nobody realized it then, but that year type would be revolutionized, and we started Emigre.

Congratulations TDC!