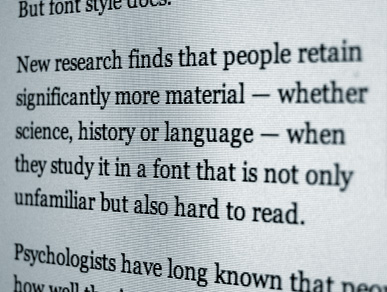 The Legibility Wars are Over and the Winner is... 05.22.2011

Twenty years after we first published our thoughts on legibility in Emigre magazine, the rest of the world is finally catching up. We raised a lot of eyebrows in those days. Our less than neutral layouts and jarring typeface designs were criticized and dismissed as self indulgent and were deemed to interfere with the readers' ability to read texts and comprehend messages. The opposition to our experiments was so vehement that the ensuing battle was referred to by many as "The Legibility Wars."

Well, it turns out that researchers have found what we suspected all along: that slowing the reader down actually helps them concentrate harder and retain more information. Disfluency, as the researchers call it, improves retention. Or as The New York Times put it: "...people retain significantly more material when they study it in a font that is not only unfamiliar but also hard to read."

Of course we're not absolutists on this issue, and we're highly skeptical of findings by researchers who have little knowledge of the complexities of type and design. But it was always obvious to us that there's more to effective typography than simply making things legible.