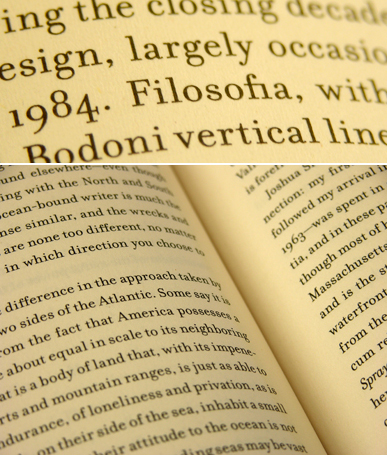 A Note on the Type 03.15.2011

The traditional practice of crediting fonts is a lost art today. Type designers are largely resigned to the notion of toiling in obscurity. So imagine our delight when the best-selling British author Simon Winchester himself contacted us to verify the accuracy of his colophon "A Note on the Type" to be published at the end of the text in his latest book Atlantic published by Harper Collins. The text of the book was set in Filosofia. And we couldn't be more grateful for the thoughtful acknowledgement.

Here's what Winchester wrote: "The typeface employed throughout this book is a modern interpretation of the classic eighteenth century Bodoni face, and known as Filosofia. This was created in 1996 by the Bratislava-born type designer Zuzana Licko, who with her Dutch-born partner Rudy Vanderlans astonished the typographic world during the closing decades of the 20th century with a whirlwind of type design, largely occasioned by the invention of the Macintosh computer in 1984. Filosofia, with its slightly bulging serifs and lighter-than-classical-Bodoni vertical lines, clearly owes much to one of the most beloved of all Italian faces, but is more amiable and less wearing to the eyes when ranged over texts as lengthy and complex as that of Atlantic. I am proud that this book's designer felt able to employ this wonderful new typeface, and applaud with gratitude its most gifted creator. - SW"