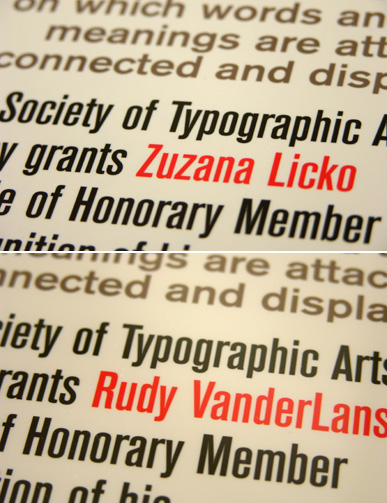 Emigre Inducted 03.11.2011

Last October, Emigre founders Zuzana Licko and Rudy VanderLans were inducted as Honorary Members of the Society of Typographic Arts in Chicago.

"We feel quite fortunate to be doing what we love doing" said VanderLans, "and we always thought that was reward enough. So when the STA contacted us last year, and told us about the wonderful honor that they were planning to bestow upon Emigre, we were simply stunned."

Since its inception in Chicago in 1927, the STA has been a vital participant in the Chicago design community, sponsoring seminars and conferences, and developing publications. Honorary members include such luminaries of design as Saul Bass, Lester Beal, Mildred Friedman, Fredrick W. Goudy, Beatrice Ward, Herb Lubalin and Jan Tschichold to name but a few.

"This award is a great vote of confidence," said Licko, "and it inspires us to keep working even harder so that we may actually earn our stay among these giants of design. Thank you STA!"