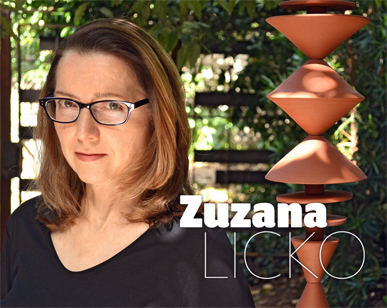 Zuzana Licko Interview 06.29.2016

MyFonts, our top reseller, just published a lengthy interview with Zuzana Licko conducted by Jan Middendorp. She answers questions about her roots, her love for ceramics, her approach to revivals, and how early digital technology inspired much of her type design output.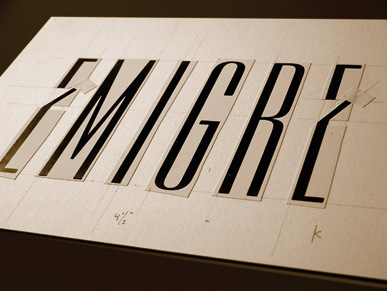 Emigre Donates Archive 06.20.2016

We're happy to announce that we have donated the Emigre archive to Letterform Archive in SanFrancisco. This once-in-a-lifetime decision wasn't easy to make, but was made much easier by Letterform Archive's enthusiastic support and devoted staff. Our donation includes original paste-up boards for Emigre magazine and a complete run of the publication, plus press sheets, audio tapes of interviews, merchandise, ephemera, correspondence, typeface development files, and type catalogs.

We selected Letterform Archive to house and preserve our work because of its world-class type & design collection. It's also easily accessible to the public, it actively promotes itself to the design community, and itís run by knowledgeable and dedicated professionals. We're honored to have our work sit alongside some of the world's best-known graphic design artifacts. Letterform Archive will incorporate this donation into their programs and services, to introduce a broader audience to Emigreís history, and to put the collection online for type lovers near and far.

You can read more about this donation and Letterform Archive's many type-related events, including workshops, lectures, exhibitions, and publications on their website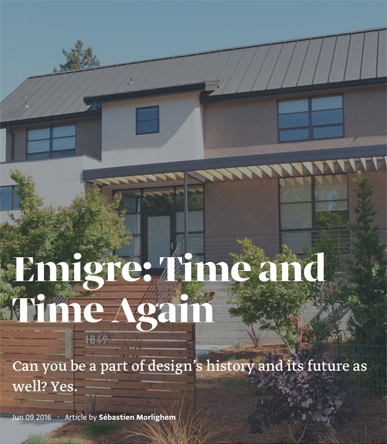 Fontstand Interview 06.15.2016

Check out the interview with Rudy VanderLans about Emigre's legacy and future on the Fontstand website. After more than three decades of activity, how does VanderLans see Emigre in 2016? And how does he feel about the aging of its body of work?

Also, read a well-considered reply by Stephen Coles on his Typographica website in response to Emigre's Fontstand interview.






Fonts for Rent 06.03.2016

After 30 years of saying NO, we can finally say YES! to free font trials through the Fontstand service.

Fontstand is a Mac OS X app that allows you to try fonts for free or rent them by the month for desktop use for just a fraction of the regular price. Even better, if you rent the font for 12 months itís yours to keep.

We are kicking off this new venture by making a selection of the Emigre Font library available through this service, including such long-time favorites as Mr and Mrs Eaves, Filosofia, Matrix, Fairplex and many others.

We're excited to provide this additional choice to use our fonts. Give it a try, and let us know what you think on Facebook or follow Fontstand on Twitter.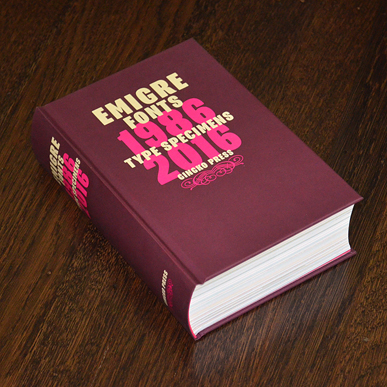 Emigre Fonts: Type Specimens 1986-2016 06.01.2016

Emigre's latest book is a 752-page compilation celebrating the art of the type specimen. The book features reprints of Emigre's most remarkable specimen designs covering a period of 30 years. Besides displaying the virtues of the fonts and revealing the processes used to design them, these specimens go beyond their primary function as sales tools and can be enjoyed as much for the typefaces as for their esoteric content. If your collection of Emigre's popular type specimens is incomplete, or if you've missed out on these entirely, here's your opportunity to catch up.

You can read a review of the book at AIGA's Eye on Design.

Published by Gingko Press Inc. Available in cool bookstores everywhere. Or you can order copies directly from Gingko Press or Emigre.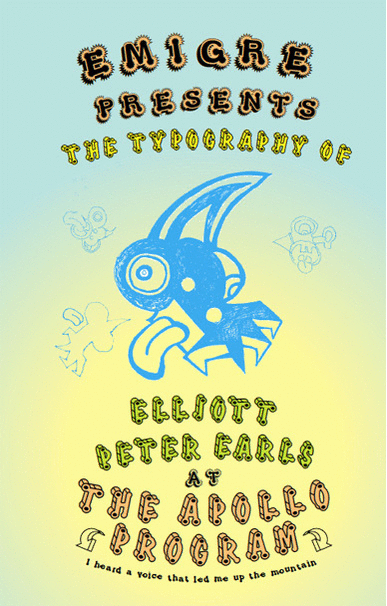 Free Type Specimens 01.11.2016

We've added nine type specimens to our list of free downloadable PDFs!

These catalogs are from the early days of Emigre and include a slightly reconstructed version of our very first catalog of low resolution fonts titled "Digital Fonts" (1986); the original catalog design for Mrs Eaves (1996); and a reconstructed catalog for Base Monospace which was originally published as a poster (1997). The list also includes PDF versions of specimens that have long since sold out for such classic typefaces as Platelet, Keedy Sans, NotCaslon, Poppi, Dalliance, and The Apollo Program.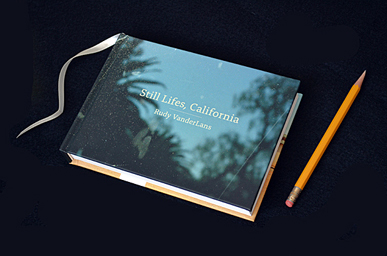 Still Lifes, California 12.03.2015

For his latest monograph, Still Lifes, California, Rudy VanderLans selected more than 100 photographs spanning a decade and thousands of miles of California highways. Along the way heís captured vignettes that punctuate the beauty and absurdity of the California environment. Empty of people but littered with the traces of human enterprise, these often surprising and always beautifully composed images will give readers much to ponder. From Hopland to Hollywood and Modesto to the Mojave, this is California as uncovered by the ever-curious author.

Published by Gingko Press.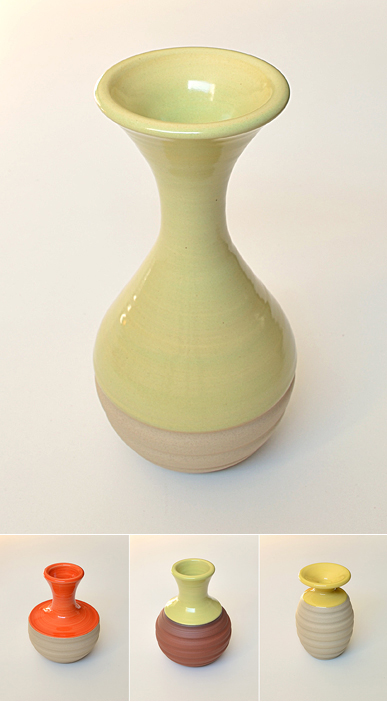 Handmade Ceramics by Zuzana Licko 11.24.2015

A new collection of handmade ceramics by Zuzana Licko is now available. These one-of-a-kind vases are offered in a variety of colorful glazes applied to various shades of stoneware. Heights range from 2.5 to 8 inches.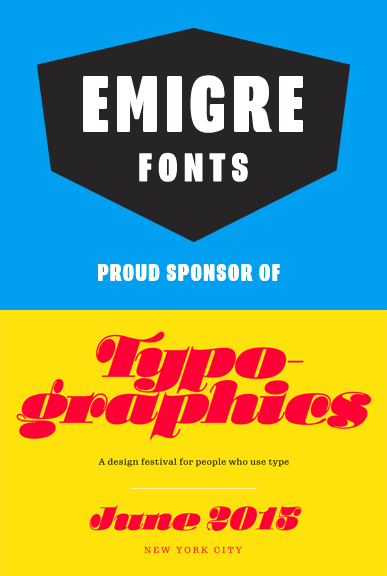 Emigre Sponsors Typographics 05.13.2015

Emigre is a proud sponsor of Typographics, a 10-day design festival devoted to contemporary typography, with talks, workshops, and tours. Featuring participants such as House Industries' Ken Barber, Pentagram's Paula Scher and Abbott Miller, Alex Trochut, Erik van Blokland, Jonathan Hoefler and many, many others. June 8-18, 2015, New York City.

Stop by our Facebook page to pick up the promo code and save $50 on the conference. While you are there, give us a ďLike.Ē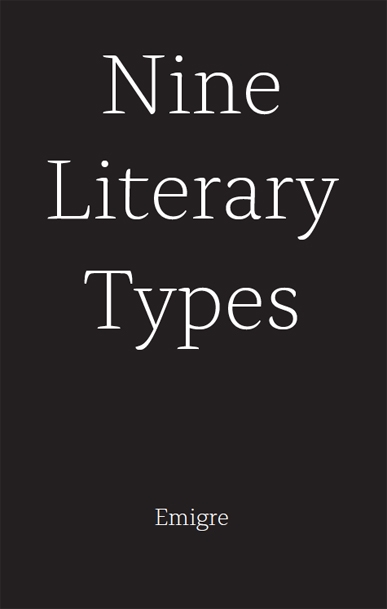 Nine Literary Types 04.26.2015

Sign up now to receive a FREE copy of the new 64-page Emigre type specimen Nine Literary Types! You can pre-order a free offset printed copy, which will be mailed to you in mid May (Within U.S. Only). Or, if you can't wait, you can download a free PDF version right now.









Emigre Newsletter
You can add yourself to the Emigre Newsletter emailing list. We use the Emigre Newsletter to help keep you informed of new products, services, and special limited offers.