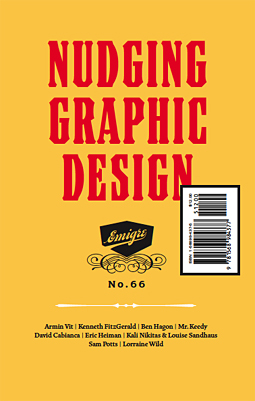 Kenneth FitzGerald proposes that the objective of design, to create a class of expert professional practitioners, can - and should - only lead to its demise as a specialist profession.

Lorraine Wild and Sam Potts respond, separately, to the publication of Rick Poynor's recent book No More Rules: Graphic Design and Postmodernism.

Eric Heiman urges designers to "think wrong" and refocus their creative energies to solving non-commercial, more socially motivated problems.

Jeffery Keedy gives us a list of some of the most popular but dumb ideas in design.

Ben Hagon warns that without a significant change in the method by which we create work, Joe Client will, in time, do our graphic design work for us.

Kali Nikitas and Louise Sandhaus respond to the criticism levelled at their conversation "Visitations" which was published in Emigre 64.

And Emigre interviews Armin Vit, the founder of Speak Up, design's most successful blog, and David Cabianca who discusses the value of design theory and criticism.

Plus, the "Readers Respond," featuring letters from around the world in response to past issues of Emigre magazine.

Co-published by Princeton Architectural Press.