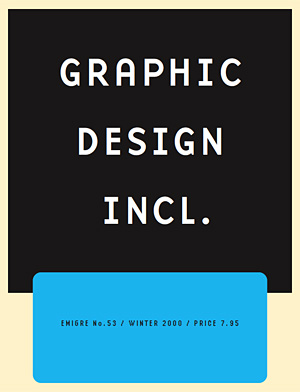 This issue starts off with the article "Saving Advertising" by former Wieden & Kennedy Creative Director Jelly Helm. The critical essay touches upon many of the issues raised in the First Things First Manifesto 2000 (See Emigre #51), and offers suggestions on how advertising can regain its status as an honorable and ethically sound profession. The article is typeset using John Downer's recently released typefaces Vendetta and Council.

Following this is the "Readers Respond" section which offers another tasty sampling of replies from our readers regarding First Things First as well as other issues.

Then, from Portland, Oregon come the artist team Swallow Press (x2), who present and document their "Lessons in Urban Education," a city-wide poster campaign presenting a non-linear series of images and text which encourage us to seek out and find our own answers as we maneuver our way through the space "in-between" (our home, our work, our play).

Also featured is the photography of Cynthia Connolly who presents a selection of photographs of Ice Machines. The images were made during her photo trips documenting the wide open spaces of the west. The photographs are interspersed with the travel story titled "Likelihood" by Lois Maffeo.

Closing out the issue is Elliott Earls who presents the eighth portrait in his continuing series titled "Gangsters and Their Effect on my Soul."