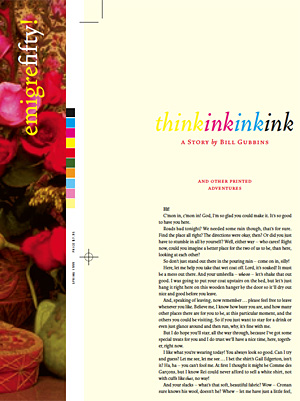 (1 copy for sale. Slight scuffing along top of front cover and small pen mark. Otherwise near mint condition.)

Emigre celebrates the publication of its 50th issue with a return to a more visually oriented approach reminiscent of its early days of publication.

Designer/writer Shawn Wolfe gives us an overview of BeatKit, a company he started in the early 80s with the purpose of questioning design's function as spectacle/commodity.

Elliott Earls of The Apollo Program renders a series of highly subjective portraits of his all-time heroes.

Two new Emigre typefaces are introduced: Cholla and Vendetta.

Cholla, designed by Sibylle Hagmann, was originally produced for the Art Center College of Design catalog. It will be shown in a series of layouts created by Hagmann with text by Denise Gonzales Crisp.

Vendetta is a new series of Venetian old style printing types designed by John Downer. The fonts are first used in this issue of Emigre in an adaptation of the 1920 book Our Araby: Palm Springs and the Garden of the Sun by J. Smeaton Chase, with layouts and photography by Rudy VanderLans.

Bill Gubbins invites us to his home for an hilarious chat about printing inks.

Martin Venezky, art director of San Francisco's cult tab Speak, presents his Cranbrook thesis, "Notes on the West," a visual odyssey dealing with the iconography of the Old West.