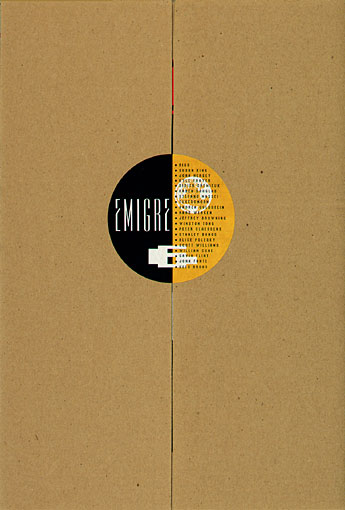 This issue is presented in a corrugated cardboard box and celebrates "International Culture." It consists of three parts plus a handmade, letterpress printed fan by book artist Susan E. King.

The issue features essays on the Dutch design group Hard Werken, and the collaborative art of Scott Williams and Didier Cremieux. Interviews with Tuxedomoon's Peter Principle and Winston Tong, and the American/Japanse artist Gavin Flint.

Short stories include "Life with Bob" by Stanley Banos, and "Helen, Thy Beauty is to Meó" by John Fante.

Photographs by Stefano Massei and Andrea Goldstein, and portraits of Bob Hope by John Hersey and Gertrude Stein by William Cone.

Other contributors are Alice Polesky, Kees Broos, Peter Claessens, Jeffrey Browning, Karen Douglas, and Kyle Thayer.

Special 8-page illustrated story by Portuguese artist Rigo.