The OpenType format incorporates small caps, ligatures, old style numerals lining numerals, and other typographic features within one font file. Therefore, accessing these features requires an application which supports OpenType typographic features, such as Adobe InDesign.

Features, such as small caps, are accessed through a special menu instead of selecting the small caps font from the font menu.
For example, in InDesignCS2 the Small Caps feature is located here, under the "Type" Menu:
Type/Character/Small Caps

To activate the OpenType menu:
Locate the "Character" palette.
If the Character palette is not open, go to: Type/Character
Click the small triangle inside of the circle (located in the top right corner of the "Character" palette - this is at the far right of the row that contains: Transform Paragraph Character >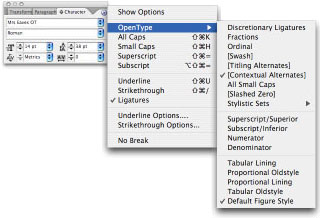 Simply select the text in your document and activate the desired feature from the Character menu.
Activated features appear with a check mark.
Unavailable features appear in square brackets []
Note that some features are located in the OpenType sub menu.
For example, discretionary ligatures are accessed here:
Type/Character/OpenType/Discretionary Ligatures