Technical Support
Font Formats
and
Character Sets
OpenType Format

Font Upgrades
Sign-in to your account

Use this form to upgrade fonts:
- to a newer version,
- from Classic to OpenType format,
- or to upgrade to a larger portion of a family.


Macintosh
Font Installation Instructions
Macintosh OSX
OpenType and Type1 Font Installation
("Native" for Carbon/Cocoa Applications)

Macintosh OS 8.x, OS 9.x and Classic
Classic OpenType and Type1 Font Installation
Requires ATM (Adobe Type Manager)
Download ATM Lite

Windows
Font Installation Instructions
Windows 7
TrueType, PostScript, and OpenType Font Installation

Windows ME, 95, 98, NT, 2000 and XP
TrueType Font Installation

Windows 2000 and XP
OpenType and Type1 Font Installation

Windows 95, 98, ME and NT
OpenType and Type1 Font Installation
Requires ATM (Adobe Type Manager)
Download ATM Lite

Windows
TrueType Screen Display Settings
Recommended Windows Settings for Best Screen Display of our TrueType Fonts:

Character Sets and OpenType Features

Standard Character Set
Most Emigre Fonts contain the following characters; some display fonts may have more limited sets.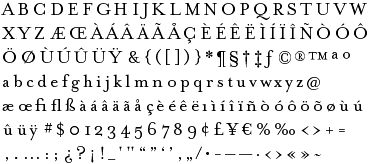 Some Emigre Fonts also include the following:
Lining Numerals are aligned with the height of the capital letters.

Old Style Numerals, also called "non-lining," have ascenders and descenders like the lowercase letters, with emphasis along the x-height, thus creating a more even appearance than lining numerals when used within lowercase text.


Please see this table for a listing of old style and lining numeral support.

Small Caps
Small Caps are small versions of the normal capitals which are designed to be visually compatible with the lowercase characters. These are often used for emphasis within lowercase text where the use of regular capitals would be too obtrusive.
Although many page layout programs can mechanically generate small caps by scaling the standard caps, small caps generated in this way appear too light next to the standard caps because the stem weights of these characters are also reduced by the scaling:

Therefore, to achieve small caps that are visually compatible with the standard caps, they must be optically corrected:


Lining Tabular Numerals
Tabular numerals (shown below, left) are monospaced, making them ideal for use in annual report columns and other tabular applications.
Proportional numbers (shown below, right) are not monospaced, thereby creating a more even appearance when used within text.